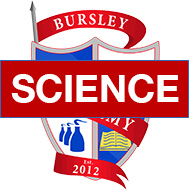 At Bursley, we recognise that Science is a subject that encourages curiosity about the world in which we live. We want our pupils to learn about new things and develop skills, which in time, will give them access to further areas of knowledge.
At Bursley Academy we believe that a high quality Science education provides the foundations for understanding the world. Science has changed our lives and is vital to the world's future prosperity. Through building up a body of Crucial knowledge and scientific concepts, pupils should be encouraged to recognise the power of rational explanation and develop a sense of excitement and curiosity about natural phenomena. From a solid base of Crucial knowledge pupils are encouraged to understand how science can be used to explain what is occurring, predict how things will behave, and analyse causes.
Science in our school is about developing children's thinking to enable them to make sense of the world in which they live through the understanding and retention of Crucial Knowledge which can then be tested and applied in practical investigation and exploration. All children are exposed to high quality teaching and learning experiences, which allow children to explore all aspects of their environment and concepts from the wider scientific world. They are immersed in scientific vocabulary, which aids children's knowledge and understanding not only of the topic they are studying, but of the world around them.
Through Science at Bursley we want to ensure that all children are provided with rich learning experiences that aim to:
prepare our children for life in an increasingly scientific and technological world today and in the future
help our children acquire a growing crucial knowledge base and understanding of the nature, processes and methods of scientific ideas
to build on and develop their enthusiasm and natural sense of wonder about the world
encouraging open-mindedness, self-assessment, perseverance and developing the skills of investigation
develop the use of scientific language, recording and techniques
make links between science and other subjects
provide children with the concepts and procedures needed to work scientifically and test/prove their knowledge
ensure practical work has a clear purpose, forms part of a wider teaching sequence and takes place only when pupils have enough prior Crucial knowledge to learn from the activity
develop through practical work the skills of observation, prediction, investigation, interpretation, communication, questioning
to foster a positive attitude to science and increase pupils' understanding of how science is used in the wider world
enable children to develop their skills of co-operation through working with others
Recommendations for parents/useful links and websites
http://www.primaryhomeworkhelp.co.uk/science/index.html
http://www.crickweb.co.uk/ks1science.html
https://www.topmarks.co.uk/Search.aspx?Subject=26
https://www.bbc.co.uk/bitesize/subjects/z6svr82
Downloads
Science Curriculum