Nursery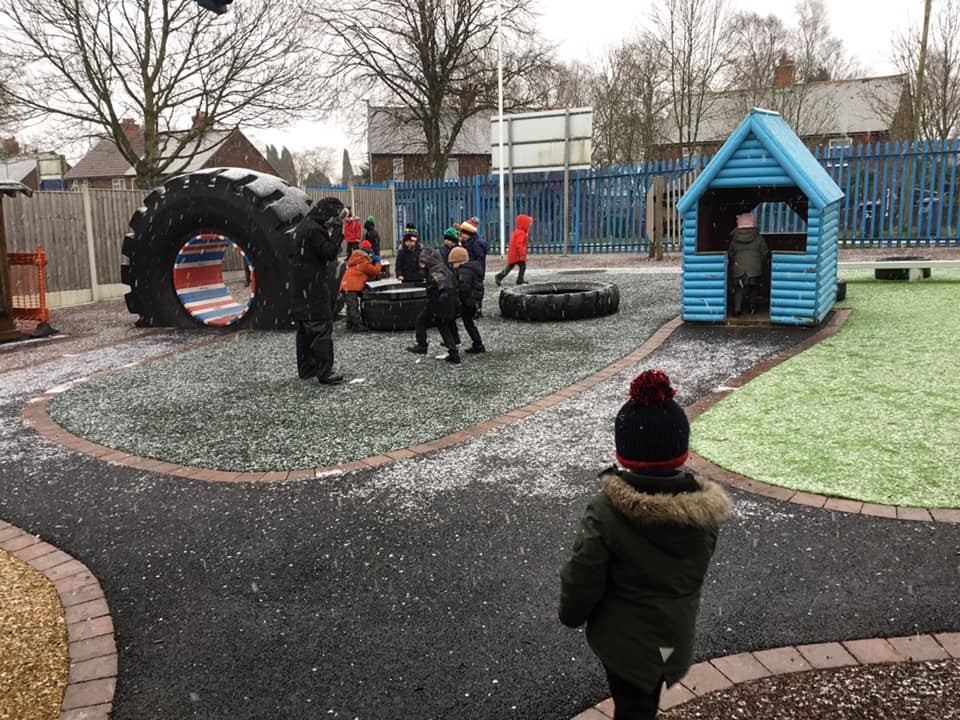 Bursley Academy has an onsite nursery that runs during termtime.

In Nursery, the children play and they learn through playing with their peers, adults and by themselves. We provide children with a warm, safe environment where they feel comfortable to explore. It's through exploring that children will learn.

Nursery prepares children for school in all sorts of ways- through learning to interact with their peers, through being physical, through learning self-hygiene to recognising their own feelings and how to manage them. We provide routine and structure to your child's day, this helps children to feel more confident and secure and in control of their feelings.

Our approach is a child-led approach. We provide exciting and stimulating activities based around the children's interests, needs and stages of development. We believe in giving children the tools they need for school and letting them learn both indoors and outdoors.
What types of places are available?
Bursley Academy offers 3 types of places
Every morning (15 Hours) Mon, Tue, Wed, Thur & Fri from 9am until 12noon.
Every afternoon (15 Hours) Mon, Tue, Wed, Thur & Fri from 12:30pm until 3:30pm
Full time (32.5 Hours) Mon, Tue, Wed, Thur & Fri from 9am until 3:30pm
If you are entitled to full 30 hours funding from the Government then the cost is £10 per child, per week paid in advance for lunchtime supervision. If you are in receipt of 15 hours only, then the cost for a full time space is £70 per child, per week.
How do I find out if I qualify for an extra 15 hours (30 hours)?
On top of the universal 15 hours, the government released a new scheme in September 2017 where eligible families could receive an extra 15 hours of funded education per week, making 30 funded hours over 38 weeks.
Working families must meet the criteria, to find the out more go to the HMRC website – section for 3 and 4 year olds: www.childcarechoices.gov.uk
How do I Apply for 30 hours and get a confirmation code?
Parents must make an online application through the HMRC website:
https://www.childcarechoices.gov.uk
A gateway account will be created for you and successful applicants will receive an 11 digit code. Parents must present this code to their childcare provider to claim the extended funded hours. Anyone who has difficulty with the online application process, or does not agree that they are not eligible should contact the HMRC Customer Interaction Centre on 0300 123 4097.
Do I have to keep checking my eligibility for the extra 15 hours once I get the code?
Yes, approximately every 3 months HMRC will contact parents via your chosen method of communication (text or email) to remind them to log into their gateway account and confirm their circumstances and check eligibility again. If you do not do this, funding will cease after a grace period and you will be liable for fees of £65 per week.
If I am no longer eligible for the extended 15 hours, what happens next?
Families who drop out of the eligibility criteria for the extra 15 hours will continue to receive these hours for a short time after. You will be notified by HMRC of the date your extra 15 hours will cease for your 3 or 4 year old, this is called a Grace period.
Once the extra 15 hours have ended, your 3 or 4 year old will still be eligible for the universal 15 hours per week for 38 weeks (or 570 hours across the year) or you can retain your place by pay
Can I also claim Tax Credits / Tax Free Childcare?
Yes, you can claim Tax Credits and Tax Free Childcare on hours, services and consumables you have to pay for, go to www.childcarechoices.gov.uk for more information. However you must inform HMRC if your circumstances change when claiming Tax Credits and Tax Free Childcare as you cannot get assistance for the hours which you are receiving the funded places
Does Bursley Academy accept Childcare Vouchers?
Yes, we have a list of approved childcare voucher suppliers that we deal with. Please speak to a member of the school office admin team to find out who they are.
When & how do I pay?
Payment MUST be made in advance via ParentPay. (Parents without the use of internet can receive a printed barcode, which they can use to pay at a PayPoint centre like Bradwell Co-op or Riceyman News.) Please note that your child's place may be in jeopardy if you do not pay your fees in a timely manner.
Are there any further costs?
Yes.
We ask for a contribution towards your child's snack. This is paid once each term (3 times a year Sept/Jan/May) at a cost of £10 for per term for part time children & £15 per term for full time children.
Lunches: If your child attends full time then you can choose to send them to school with a packed lunch or purchase a hot school meal from our caterers. The cost for this meal is approximately £2.30.
How does Bursley Academy complete the admission process for a nursery space?
Once we have reached the deadline for returns, all forms are collated and the children are ranked as per our Reception criteria which can be found on our website.
The number of children that we admit is dependent on the types of nursery spaces that are requested. We have 30 Nursery spaces in the morning & 30 Nursery spaces in the afternoon. If the first 30 parents on the criteria list request full time then we will admit 30 children; if all parents request part time then we can accommodate 60 children.
If my child secures a place at the Nursery are they guaranteed a place in Reception?
Unfortunately entry into our Nursery does not guarantee your child a place in our Reception class however; we do have more spaces in our Reception than our Nursery. Parents will need to apply for a
Reception place in Nov/Dec via the Staffordshire County Council Website. We will guide you through this process.
My child isn't potty trained; can they attend?
We ask that every attempt is made to potty train your child before they start Nursery in September. If your child has a medical condition that makes this difficult, please speak to a member of our EYFS Team about how we can support you.
What is the daily routine?
We offer a balanced curriculum and each session follows a flexible routine that gives the children plenty of opportunity to have periods of uninterrupted play.
Staff interact with the children, extending and enhancing their experiences, observing and assessing at specific times. With your consent, observations are captured on our secure on-line 'Learning Book' and parents have the ability to view and comment on activities.
Time is planned to listen to the children and for them to reflect on their activities. Children are given the opportunity to work individually, in pairs, in small groups and as a class.
How will my child settle in a new setting?
Whilst we do not have a staggered intake i.e. children start on their designated hours straight away, we have a number of 'Stay & Play' sessions that they can attend in June/July with parents to help them to get use to the setting. We also allow parents to stay in the classroom for the first 15minutes of the day and can assist parents with particularly anxious little ones.
All successful candidates will be invited to a welcome meeting in June so that parents can meet the EYFS Team, share important information and ask any questions.
Downloads